Information required
Name: PATRICK BONIFACE
Email: PaddyB@themutual.net
Date: 16th November 2002
Time: 11:21

Message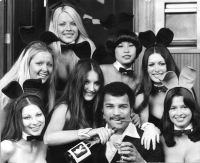 Light Heavyweight champion
John Conteh and London Bunnies.
Eve is the blonde at the back.
I am a screenwriter and I am researching a project for which I would like to hear from ex Playboy Bunnies and other Playboy Employees who worked in London in the early 1970's. I would like to hear from anyone who knew Eve Stratford who was tragically murdered by an assailant who has still to be brought to justice.
The proposed TV movie would closely follow the story of her murder and the moments leading up to it. Perhaps with your help, the movie might just stir some long forgotten memory that could finally after twenty five years bring someone to justice.
If you'd like to get in touch, my email is PaddyB@themutual.net or by post:
Patrick Boniface
29 Camomile Drive
Weavering
Maidstone
Kent ME14 5FL
United Kingdom
Many thanks, Patrick Boniface