LOOKING FOR DENVER BUNNIES 1973-74
Name: SHADE BURNETT
Email: shadecat@msn.com
Date: 12th January 2003
Time: 10:45

Message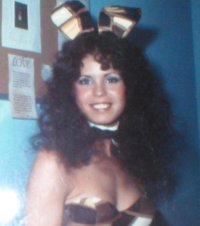 Bunny Shady
Hey Bun-Buns!! I worked at the Denver Club from 73-74. My Bunny name was "Shady". As you can see, I kept the name! Well, I changed it a little.
My two best Bunny friends were Linda Durst (aka Linda Doucette), and Laura Seifert (aka Laura Lemonis).
If you worked at the club during that time, please reply here or e-mail me. I would love to hear from all of you!
I had a blast working there and have lots of coooool memories!!
Hope to hear something soon.
In the meantime view my Bunny Shady photo album.