Great Gorge Playboy Reunion
Name: Bunny Robbie
Email: greatgorgeplayboyreunion@hotmail.com
Date: 13th January 2003
Time: 09:34

Message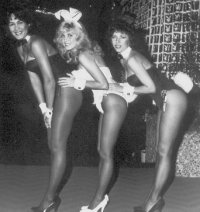 Bunny Robbie and friends
Looking for lost Bunnies and Crew from the Great Gorge Playboy Club...
A reunion is in the works for Spring 2003...
Send us your email address and post mail address so we can put you on the mailing list for the upcoming event.
All Bunnies and past employees of Great Gorge Playboy Club are welcome.
Your hosts, Bunny Robbie and Chef Mike
E-mail: greatgorgeplayboyreunion@hotmail.com
View the Bunny Robbie photo album.