Re: LOOKING FOR DENVER BUNNIES 1973-74
Name: SHADE
Email: shadecat@msn.com
Date: 24th January 2003
Time: 11:15

Message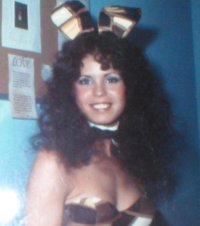 Bunny Shady
I have some info about Linda Doucette that might help in tracking her down.
She played "Darlene" on "The Larry Sanders Show" and was also featured in the Sept. 1993 issue of Playboy on pages 82-87. The article was titled "Showstopper". Take a look and see if it rings any bells.
She also did a "Tales From The Crypt" episode with Miguel Ferrer about a talk radio DJ. Anybody hear any bells yet?
I've been trying to find her for the last 20 years! Hope somebody can help me.
I also have a picture of Laura Lemonis that I have sent to Alan the Webmaster (see below). It was taken at the L.A. club in the mid 70's. Maybe you'll recognize her. I hope so!
Later, Bun Buns!!