ST LOUIS PLAYBOY CLUB BUNNIES
Name: BUNNY BONNYE
Email: LIVINGWELL@SBCGLOBAL.NET
Date: 7th February 2003
Time: 22:45

Message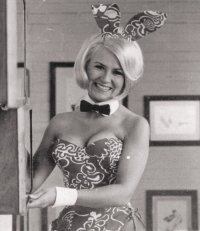 Bunny Bonnye
Looking to reunite Playboy Club Bunnies from the years of 1963 to 1970.
This would be the Playboy Club that was on Lindell Blvd. Rick Lamb was the GM and Patti Smith, and then Sandy were the Bunny Mothers.
I would like to hear also is you remember Franie. Kim, Jody, Jeanie, Marla, Brenda, Betty, Barb, Laurie, Lee, Angel, Vivien, Jude, Marty, Erika, Nicki, Pat, Jehney, Misko, Bev, Dawn, Linda, Crickett, Tammy, Patsy, Carol, and Eunice.
Please email me and we can swap stories... thanks
View the Bunny Bonnye photo album.