Did we live at the mansion or work together?
Name: Bunny Olivia
Email: dispatch@welkgroup.com
Date: 19th February 2003
Time: 12:26

Message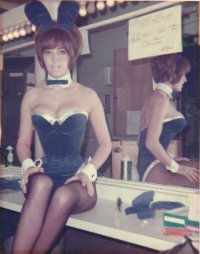 Bunny Olivia
Hi,
I was wondering if any of my old roommates are out there... I lived at the mansion and worked at the Chicago Club in '64 and '65. Would love to hear from anyone who remembers Bunny Olivia. I worked in the VIP room and Living Room as well as Camera Bunny.
Would be fun to talk over old memories and see where everybody is today. We are all a poignant part of female history!
Bunny Olivia
View Olivia's Bunny Photo Album.
Read Olivia's Biography.